Back to School Tips & Tricks!
"THANK YOU for your wonderful expert advice on how to transition Johnny back to school! We followed your easy back to school tips, and mornings don't seem too crazy anymore!"
Jean & John, parents of an anxious child
Do you feel ready for back to school? If you are like most parents, you are probably having some anxiety about it yourself, let alone your children! To help cope with all the stress surrounding going back to school, here are the top 6 back to school tips to make the transition an easy one.
1) BEDTIME & OTHER ROUTINES
You might not be popular with your kids for these ones, but these back to school tips are crucial. Now is a great time to set up routine bedtimes and wake-up times. A proper sleep schedule is the most important factor to any good transition.
And this may not make me popular with you, but start preparing yourself to wake up before the kids do. A little extra time to yourself in the morning gives you a moment to relax before the rush begins.
If the after-school routine is to start homework or do dinner prep, both of those can be started now during the summer. "Homework" time can look like reading, doing a puzzle, researching something they find interesting (like healthy school lunches!), or working on a summer journal. If you would like some more ideas to keep the kids busy, check out our top 6 summer activities.
Keep the conversation flowing around, "When you are back in school, we do these routines to help you, me, the family, your teachers, and everybody in your life to be successful!"
2) PREPARE THE NIGHT BEFORE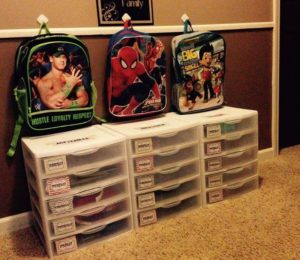 Get prepared the night before by trying the following back to school tips:
-make lunches and fill water bottles
-pack bags with homework, gym strip, library books, etc.
-set out breakfast options
-schedule bathroom times
-pick out clothes
Here are some things to consider when working out the above:
-Do your kids have a lunch pack? backpack? school supplies?
-What will your kids eat for breakfast and lunch? Is it at least 80% healthy goodness? Is there anything you can prepare on the weekends to make lunches easier?
-Do you have non-leak water bottles? Did you label them?
-Start having the conversation about bathroom routines! Who gets which bathroom when?!
As with each of these back to school tips, keep the conversation flowing around, "When you are back in school, we do this preparation as it helps you, me, the family, your teachers, and everybody in your life to be successful!"
3) THE TEN MINUTE ADVANTAGE

Plan to leave the house 5-10 minutes before you actually have to! Sometimes that might even mean setting your clocks ten minutes fast. This is one of the oldest tricks in the book and it works! You could also try getting up a little earlier to make things easier. Imagine the feeling when you know you are ready to walk out the door and can take a deep breath of relief. We encourage you to try these back to school tips now and experience the benefits.
And keep the conversation flowing around, "When you are back in school, we do this ten minute advantage as it helps you, me, the family, your teachers, and everybody in your life to be successful!"
4) PLAN A BACK TO SCHOOL CELEBRATION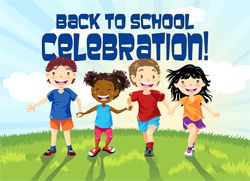 Arranging a back to school celebration is a wonderful way to take the stress away. This helps kids associate going back to school with something positive instead of something negative. The celebration could be something so simple as spending the day together, or it might look something more like a birthday party (socially distanced, of course!). You can turn these back to school tips into a system that works for YOUR family, so get creative!
5) EXTRA-CURRICULAR ACTIVITIES
When scheduling extra-curricular activities, quality is more important than quantity! Take the time to find out what your kids like doing the most. It's better to sign up for 1-2 activities they really enjoy instead of a bunch that they feel indifferent about.
If finances are a concern, use free community resources like the library. Libraries have clubs (i.e. Lego clubs) that meet regularly. Or, source out scholarships that pay for such programming.
6) OPEN LINES OF COMMUNICATION WITH THE SCHOOL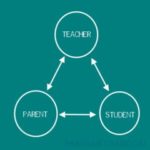 The last of our back to school tips is to maintain open lines of communication with the school. This will allow you to get a better understanding of the school's expectations and how your kids are doing. Ask the teacher whether their preference would be email or using the school agenda.
Plan to volunteer at school. There are many opportunities with various time commitments. Research shows that students whose parents volunteer at school are more likely to succeed. Give it a try!
To Summarize these Back to School Tips…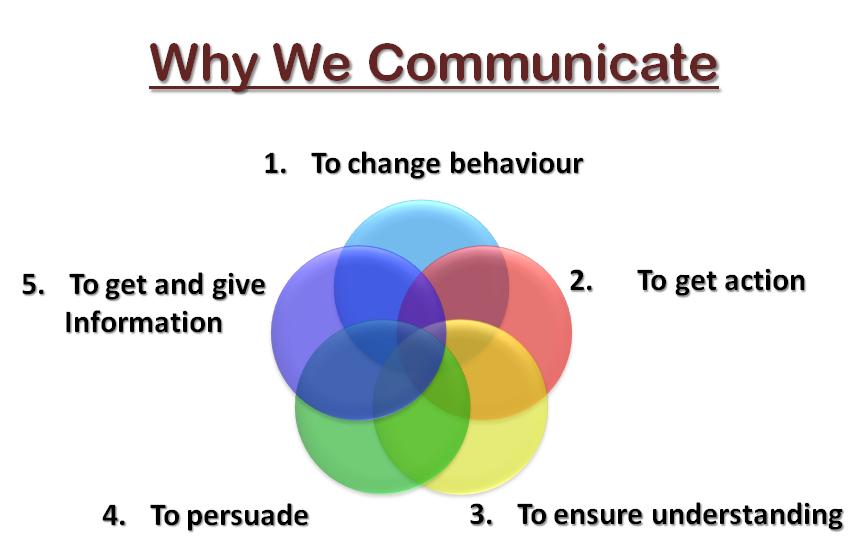 You have probably figured out by now that we feel communication is VERY important!
Research shows that if kids truly understand the "why" behind what they are doing, their engagement and interest both increase exponentially! Why not start the school year that way? You can use these back to school tips to help your kids understand the importance of organization and routine. This will ensure that the whole family can move forward without stress…and that's a wonderful thing!
Let us know how these back to school tips help you and your family. Or, feel free to contact us to share your own back to school tips. We would love to hear from you!
If you want to stay updated with more back to school tips (especially surrounding COVID-19), head over to our Facebook page for more information.