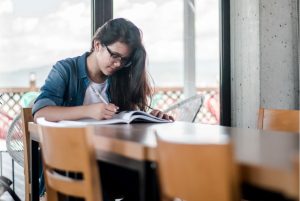 Learning the English language can be tough work! Fortunately, our CELTA and TESOL certified ESL tutors can make it easier. Our tutors love teaching English in a way that's simple, straightforward, and easy to learn.
Our ESL tutors are located on Vancouver Island and can help with English at any grade, from elementary school to graduate-level and business university classes.
At Tutoring…With A Twist*, we are ready to help students improve their English skills in a friendly manner that will set your family up for success. Best of all, our unique tutoring method guaranteed success beyond the classroom, helping students build valuable skills that will serve them for life.
Our ESL Specialties
Our ESL tutors are ready to help students improve their skills in many aspects of the English language, including:
Speaking
Reading
Comprehension
Writing
Grammar
Vocabulary
Speaking
And more!
Regardless of academic background or current skill level, the tutors at Tutoring…With A Twist* can help you improve your English knowledge and confidence! We can also tutor in other subject areas, including French, Science, and Math, while we work on improving English skills. We recognize IELTS.
Twisted Tutoring Locations
We can provide ESL tutoring in several Vancouver Island communities:
5 Reasons To Consider ESL Tutoring
5. Improve Language Skills
If you grew up speaking a language other than English, you may find English challenging to learn—and you're not alone! English is considered one of the hardest second languages to master because of its nuances, contradictions, and endless oddities. Fortunately, our experienced ESL tutors can help you improve your English language skills and understanding at any level.
4. Gain More Confidence
Students who can understand and communicate in English will become significantly more confident in our Vancouver Island communities! Our ESL tutors will help you make sense of the language around you, making it easier to ask questions, learn new material, and ensure your personal needs are being met. Best of all, this confidence makes it even easier to improve English language skills further and learn in new subject areas.
3. Feel Happier & Healthier
Tutoring…With A Twist* isn't like other tutoring agencies. Instead of just looking at students from an academic standpoint, we view our students as whole people and consider the impact of their emotional and mental wellbeing during learning. This unique approach helps us ensure every student is in the right headspace to learn, which translates into better progress and happier, healthier people!
2. Develop Important Life Skills
We also guarantee success beyond the classroom and help our students develop important life skills. From planning and organization skills to study methods that can be applied to numerous subject areas (and more), we help our students build up a toolbox of tactics that will help them find success in life.
1. Improve Study Habits
When we work with students, we help them see the value in setting aside time to learn. This helps improve work ethic and study skills, and students get to see the genuine benefits of putting effort into learning new things. The feeling of success that comes from accomplishing new things is a powerful motivator! We help students recognize and harness that motivation, developing a better work ethic and study habits for the rest of their lives.
To learn more about how Tutoring…With A Twist* differs from other tutoring agencies, read about The Twist!
English Tutoring Testimonials
"When it was explained that most schools primarily cater to a Read/Write Learner and that my child was a Kinesthetic Learner – I almost started to cry. My son that I was told needed medication and should go in a special class, just needed some tools and strategies to help him better understand how he learned. Tutoring…With A Twist went one step further as they worked with us, as a family, and my son's school to ensure everybody was meeting his learning needs. His grades and confidence soared and he's never looked back!"
-BF, Parent of an Elementary Math & English Student
"I've already recommended Tutoring…With A Twist to my friends because I can tell my Twisted Tutor really knows what she's doing. In our first session, she taught me how to understand BEDMAS! Then, as we continued to work together, I felt comfortable also asking her for help with my writing. I'd say from this paragraph that my Twisted Tutor is doing a great job with that subject too!"
-OL, Math & English High School Student
"My daughter was struggling with reading, she transferred over from French Immersion to English for this very reason and was still struggling. We realized it was just a little delay but she needed some help. We chose tutoring with a twist as it was recommended by friends, we couldn't be happier that we enrolled our daughter! Our daughter can read! After only attending about 2-3 sessions we saw such an improvement, I was actually shocked at how quickly learning in a different manner helped her reading improve. Thank you!"
– Chelsea Hall, Parent of a Twisted English Student
"The Twisted Tutor went above and beyond as she made me practice questions and example sheets for all of my work. Then, she taught me how to make these so that I could be more of an independent learner. I eventually didn't need her anymore because of this and that made me sad, as we really had built a great relationship. Although it made my parents happy because they didn't have to pay for tutoring anymore!"
-AJ, High School Multi-Subject Student
Check out more Twisted Testimonials!
*Services provided by With a Twist Education Ltd.
Contact A Twisted ESL Tutor
Ready to learn more about our ESL tutoring services? Simply fill out our form below or phone us at 1-866-977-4433 to get started now.