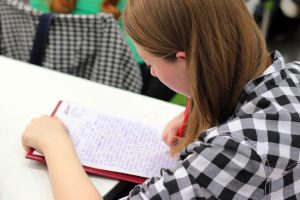 Do you want to help your child improve their English skills? No matter the grade, ability or material, our team has a Twisted English Tutor who is ready to help!
Tutoring…With A Twist* is a local tutoring network with qualified tutors in Victoria (including Saanich, Colwood, and Langford), Nanaimo, and the Central Vancouver Island area (including Parksville, Qualicum, and the Comox Valley).
As English tutors, our goal is to help students achieve their academic or professional goals in the fundamentals of English, while also guaranteeing success beyond the classroom.
Our English Specialties
Our Twisted Tutors are experienced in many areas of the English language, including:
Grammar
Vocabulary
Reading
Writing
Spelling
Comprehension
Speaking
And more!
We have tutors for every grade level, including university and business English, and we're ready to help our students tackle any obstacle that comes their way. No problem!
Twisted Tutoring Locations
We provide English tutoring to many different communities on Vancouver Island, including:
We also extend our services to anywhere in the world with online tutoring. Here's a taste of what online tutoring is like:
Top 5 Benefits of Twisted English Tutoring
5. Better English Grades
It can be stressful to discover your child is struggling in English (or any other subject). If you're looking for a tutor after your child received a disappointing mark, test result, or report card, you're not alone! Fortunately, you've already taken the first step towards helping your child succeed. Our Twisted Tutors can help students improve their skills, subject knowledge, and academic performance.
Many parents come to us because they want to improve grades, and we can certainly help with that!  But our services are different from traditional tutoring because we offer so much more than higher marks.
4. Skyrocket Self-Confidence
Self-confidence is one of the most important aspects of learning. Students who believe they can succeed will try harder and invest in their own learning and education, which is the foundation to improved academic performance.
At Tutoring…With A Twist*, we believe in the importance of making miss-takes (check out the "clapperboard" in our Unique System of Tutoring). Every miss-take made is a lesson learned, so we encourage our Twisted Students to become comfortable trying new ideas and solutions, even if they result in miss-takes. As your student's confidence level grows, they will gain the ability to tackle their work with greater authority, unafraid of making miss-takes. Doing so will result in fewer miss-takes and even higher confidence levels in the future!
When we work with students, we help them build the confidence they need to overcome academic challenges and recognize their true potential. Once your student realizes they are entirely capable of completing an English assignment, they will feel empowered and their confidence will skyrocket. That transformation in perspective will help your child become a proud lifelong learner!
3. Stronger Work Ethic & Study Skills
English tutoring is a great way to build a work ethic and study skills! Twisted Learners benefit from our tutoring in two ways:
First, they create a routine that makes studying and learning English a part of their normal lives. Regular study habits help students become more disciplined, and they will excel as a result.
Next, our students discover that putting time into learning is worth it. When Twisted Learners develop new skills with their English tutor and consequently see those skills pay off, they see the true value of investing their time and energy into self-improvement.
2. Gain Valuable Life Skills
Here at Tutoring…With A Twist*, we guarantee skills that go beyond the classroom. Because we know our students are unique and incredible people, we're able to develop individualized learning plans that match each student's own personality and learning style.
Our personalized approach to tutoring helps our Twisted Learners become self-sufficient and resilient in a way that's right for them. By embracing their strengths and finding ways to overcome difficulties, Twisted Students gain valuable life skills that will help them thrive for the rest of their lives.
School is a massive part of life, but there is a world outside of school too. By establishing relevant connections between schoolwork and the real world, Twisted Students develop important skills such as problem solving, critical thinking, organization, accountability, and many more. The Twist ensures success beyond the classroom, and that success will last a lifetime!
1. Happy, Healthy Learners
Finally, we consider the emotional and mental states of our students. At Tutoring…With A Twist*, our tutors know that a student's headspace has a direct impact on their ability to learn. Therefore, we help our students recognize their personal needs and develop methods of meeting those needs. As a result, Twisted Learners become healthier and happier people!
If you'd like to learn more about what sets us apart from traditional tutoring organization, you can learn more about The Twist here!
English Tutoring Testimonials
"When it was explained that most schools primarily cater to a Read/Write Learner and that my child was a Kinesthetic Learner – I almost started to cry. My son that I was told needed medication and should go in a special class, just needed some tools and strategies to help him better understand how he learned. Tutoring…With A Twist went one step further as they worked with us, as a family, and my son's school to ensure everybody was meeting his learning needs. His grades and confidence soared and he's never looked back!"
-BF, Parent of an Elementary Math & English Student
"I've already recommended Tutoring…With A Twist to my friends because I can tell my Twisted Tutor really knows what she's doing. In our first session, she taught me how to understand BEDMAS! Then, as we continued to work together, I felt comfortable also asking her for help with my writing. I'd say from this paragraph that my Twisted Tutor is doing a great job with that subject too!"
-OL, Math & English High School Student
"Mistakes were explained to me in a way that I could understand and then, could improve upon. I don't think of mistakes in a negative way anymore because I realized, with my Twisted Tutor's help, that I could learn more from working through the mistake then I could had I gave up. I loved the knowledge that she brought to the sessions, as well as how flexible she was in her explanations."
-CU, Graduate Student, Thesis Writing Process
"My daughter was struggling with reading, she transferred over from French Immersion to English for this very reason and was still struggling. We realized it was just a little delay but she needed some help.
We chose tutoring with a twist as it was recommended by friends, we couldn't be happier that we enrolled our daughter!
Our daughter can read! After only attending about 2-3 sessions we saw such am improvement, I was actually shocked at how quickly learning in a different manner helped her reading improve.
Thank you!"
-Chelsea Hall, Parent of an English Student
"The Twisted Tutor went above and beyond as she made me practice questions and example sheets for all of my work. Then, she taught me how to make these so that I could be more of an independent learner. I eventually didn't need her anymore because of this and that made me sad, as we really had built a great relationship. Although it made my parents happy because they didn't have to pay for tutoring anymore!"
-AJ, High School Multi-Subject Student
Check out more Twisted Testimonials!
*Services provided by With a Twist Education Ltd.
Connect With A Twisted English Tutor
If your family is interested in an English tutor, get in touch! You can call us toll-free at 1-866-977-4433 or fill out the form below to get started now.
Our Twisted Tutors are ready to help you with English tutoring, and can also assist with ESL, French, Science, Math, and more! We're happy to answer any questions you have and help talk about this important decision with you.