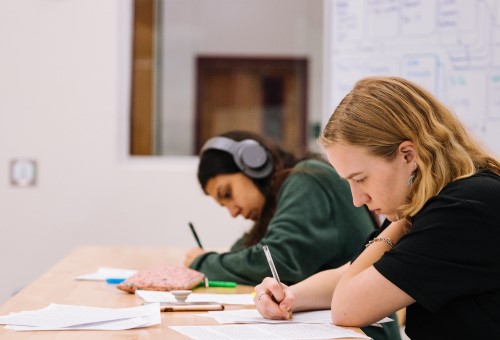 Tutoring…With A Twist offers professional test prep tutoring for students of all ages, life stages, and abilities. During our test prep tutoring classes, students will learn how to prepare for their most important tests and work towards their goals.
Our Test Prep Tutoring is available for any test or exam, including:
CCEB (Canadian Chiropractic Examining Board)
Canadian Forces Aptitude Test (CFAT)
RCMP Police Aptitude Battery (RPAB)
Medical College Admission Test (MCAT)
CASPer
Other standardized exams
School tests & quizzes
Thesis presentation
And more!
Test Prep Tutoring Locations
Tutoring…With A Twist can help students in almost any location with our Online tutoring option. We also have tutors located in the following communities:
If you are interested in local tutoring in a community that is not listed above, please reach out! We are continually expanding and may be able to connect you with a new tutor in your area.
What Does Test Prep Include?
Test preparation varies by students and their needs. Tutoring…With A Twist tutors take the time to understand where students are at right now and then develop a unique tutoring strategy based on the individual student's needs.
For some students, test preparation will focus on general test-taking skills, such as:
Study skills and tactics
Time management skills
Stress and anxiety reduction
Test-taking strategies
Once those skills are under development, test prep tutoring will focus on the individual test or exam the student is preparing for. This form of test preparation include:
Review of study material
Practice questions & answers
Planning out answers
Writing complete answers
Test prep with Tutoring…With A Twist can focus on a specific style of test, such as scantron or essay answers, or it can be tailored for all testing styles.
Reducing Test Anxiety
Test anxiety is a real challenge for many students, regardless of age, knowledge or experience levels. Most people feel nervous before an important exam, but test anxiety is more severe and has a direct, negative impact on the brain. High levels of anxiety make it difficult to concentrate, reduce memory and cognitive abilities, and increase mistakes. The result is test scores that do not reflect the student's actual knowledge or abilities and can have devastating effects on self-esteem.
Even worse, test anxiety feeds on itself. Students who have "bombed" a test due to anxiety are likely to feel anxious about the next test too, creating an ongoing cycle of anxiety, stress and disappointment. Many students begin to feel test anxiety in elementary or high school and will carry it into every test until they learn skills and tactics to reduce it.
Fortunately, we will help! The tutors at Tutoring…With A Twist helps students understand their test anxiety, build up confidence, and develop strategies to beat their anxiety once and for all.
Test Prep Testimonials
"My Twisted Tutor connects with me, is knowledgeable about the subject he's teaching me, and really helps me prepare for tests (which helps my test anxiety)." – JZ, High School Math Student
"Our daughter had a lot of anxiety about school, especially math. Our Twisted Tutor was able to teach our daughter in a kind, patient manor that not only resulted in the grades we wanted, but in my daughter understanding and actually enjoying math again." -AD, Parent of a High School Math Student
"The Twisted Tutor went above and beyond as she made me practice questions and example sheets for all of my work. Then, she taught me how to make these so that I could be more of an independent learner. I eventually didn't need her anymore because of this and that made me sad, as we really had built a great relationship. Although it made my parents happy because they didn't have to pay for tutoring anymore!" – AJ, High School Multi-Subject Student
"Mistakes were explained to me in a way that I could understand and then, could improve upon. I don't think of mistakes in a negative way anymore because I realized, with my Twisted Tutor's help, that I could learn more from working through the mistake than I could had I gave up. I loved the knowledge that she brought to the sessions, as well as how flexible she was in her explanations." – CU, Graduate Student, Thesis Prep
Contact Our Test Prep Tutors Now
If you're considering a test prep tutor, get in touch! We'd be delighted to talk about your options and share a little more info on what we can do for you. Please call us toll-free at 1-866-977-4433 or fill out our form below to get started.