"Canada's youth suicide rate is the 3rd highest in the industrialized world."– Mental Health Commission of Canada (2013)
That is a scary statistic to digest.
If you've ever woken up feeling like the world is too much to handle today, you are not alone! Before anyone can get to everyday tasks; let alone an intense process like learning, we have to take a look at our mental and physical health and wellbeing.
That's why the Tutoring with a Twist* team attended the "Strengthening Children's Mental Health" workshop with High5 Canada to learn about what mental health means for youth, as well as practical strategies to foster positive mental health in children. Supporting mental wellbeing is the start of supporting your child's future success!
What is Children's Mental Health?
Just like your physical health, your mental health can experience ups-and-downs. Feeling nervous before a test or upset about something that happened is perfectly healthy and normal. However, when we experience the following symptoms, it may be a sign of poor mental health:
Headaches and stomachaches
Frequent or intense mood swings
Lost of enjoyment in everyday interactions
Sudden shift in social groups and/or behaviour
Expression of low self-esteem or worthlessness
Changes in appetite and/or sleep for an extended period of time
It is important NOT to jump to conclusions from an isolated instance of the symptoms above. Healthy youth should be given some distance to tackle life's ups-and-downs on their own to foster independence and resilience. However, if these symptoms are persistent, intense, or show signs of escalation, they may require intervention from a caring and trusted adult. It is also important to note that these are simply signs of poor mental health which is different from a mental health issue or condition.
What are Mental Health Conditions?
Mental health conditions manifest from an extended, consistent, and/or intense state of poor mental health. Mental health conditions require professional, and in some cases, medical intervention.
The most common mental health conditions in youth include:
Anxiety
Depression
ADHD (Attention Deficit Hyperactive Disorder)
If you suspect any of these conditions, early intervention and professional help are necessary for management and recovery.
How Can Extracurricular Youth Programs Support Your Child's Mental Health?
Consider this image: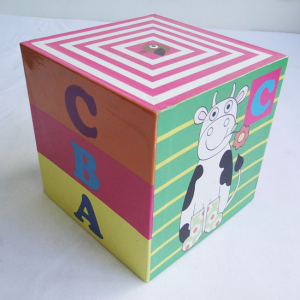 You can see 3 sides of the box clearly, but what is on the other 3 sides? What is on the inside?
Think of the box as a metaphor for different 'sides' of your child. There are some parts that they only show you, and some parts that they only show their friends, teachers, tutors, coaches, Youtube subscribes… and even sides that they don't show to anyone.
Extracurricular youth programs help you see your child in a different perspective to provide a more holistic understanding of your child's strengths, weaknesses, concerns, etc. When your child is in a different environment with different people and expectations, they will be able to express themselves differently. Often, parents and teachers may be completely unaware of certain traits and behaviour of a child that is only expressed in certain settings, which is why exposure, teamwork, and communication is key.
Tutoring… with a Twist*! emphasizes the circles in our logo and processes for this exact reason! Different people on your child's team can come together with their knowledge and strategies to understand and bring out the best in your child. By working together, we can provide each of our perspectives to get a better picture of the whole 'box. Our initial meeting, monthly report, and emphasis on ongoing communication is also done to support this process.
How do we Employ High5 Principles for Positive Mental Health Development?
High5 Canada emphasizes the following 5 principles for positive development in your child:
A caring adult; opportunity to establish a positive relationship with a leader
Friends; opportunity to build friendships and interact with peers
Play; opportunity to have fun and be creative
Mastery; opportunity to learn new skills and succeed
Participation; opportunity to make choices and have a voice
Our tutors' core methods and philosophy are designed to revolve around these principals:
We are always on your child's team! We show your child that we care about them and their education by teaching in a way that is tailored to their interests, passions, and needs. We choose to have an intensive questionnaire as part of the initial meeting to get to know your child and to show that we are all adults that genuinely care for their individual success.
Ask about our group tutoring programs! Some learners learn best in a group. Having similarly-aged peers learn together can foster leadership, social skills, and positive lifelong relationships.
Learning is supposed to be fun! Our innovative methods focus on helping your child discover how they like to learn (or how to make a boring topic interesting!). We may use a role-playing game to learn English, make a dress to learn geometry, attend the annual Nanaimo bathtub race to learn physics… the possibilities are endless!
It's our fault if your child doesn't 'get it'! Every child should be able to master learning a skill and be given opportunities to use it. If they don't succeed, it's on us as your child's tutor for not being able to help them understand! (It is the entirety of our job after all!)
It's about you! We offer an individualized tailored learning experience. We listen to your child and give them opportunities to have a say in their learning and what success looks like to them!
At the end of the day, your child's mental health is one of the foundational building blocks to their success. Learning should not take a toll on your child's mental health, it should support it. When done right, learning should feel good, and we are with them every step of the way.
Our tutors are always on the lookout for more opportunities such as the High5 "Strengthening Children's Mental Health" workshop as part of their professional learning and development to better support your child and improve their experience with us. With that said, we would like to give a big thank-you to High5 Canada for their informational workshop. Follow this link to find out more about mental health for youth: https://www.highfive.org/
If you would like to learn more about how the "twist" can make a difference in your child's life, make sure to contact us! Alternatively, follow our Facebook page to stay updated on the latest and greatest in the world of tutoring!
*Services provided by With a Twist Education Ltd.