"Miss Takes" …

No I don't need spell check…I've purposely spelled "miss take" like this! 
I invite you to think of making miss takes like how movie producers view a "miss take" when they are making a movie. The whole movie isn't thrown out because someone makes a "miss take", they just re-do it. Imagine if like was like that. If you could re-set your mind after a miss take is made, learn from it and move on as quickly as they do in the movies!
When a baby is learning to walk, we applaud their "miss takes". We encourage them to try again. We clap when they fall. We praise their ability to use aids that assist them. We give them tools to help them. We pick them up when they fail. It's like we are shooting a movie and the final take is when the child is walking. If we didn't learn to walk until adult hood, how many adults would still be crawling? Visualize this in your head the next time your child makes a miss take:
Why not help our kids think this with school?! Encourage them to make miss takes, embrace all their marks on their report cards and teach them that they are perfect at being them!
Even when the've got an "F" in math…yes I said even with an "F" in math! Let's look at math as something that needs to be continuously learned; therefore, it's not over until the end of the school year, the end of elementary school, and/or the end of high school. 
Let's applaud "miss takes" because it means the person is showing up. Let's encourage them to get up and continue to do their best. Let's clap when they get something wrong because then we can understand what they aren't getting. Let's give them learning tools to help them be successful. Let's pick them up when they fail just like you did when they were learning to walk!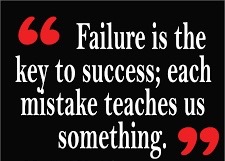 It breaks our heart at Tutoring…With A Twist* when we have a learner sitting in front of us that is there because of a "bad" mark and is subsequently being defining by that "bad" mark and seen as a failure. We ask for a vision of what the learner, their parents and their school would like to see at the end of their time working with us. This vision then becomes the end movie we are making. Along the way, we are going to have several takes to get there. During those takes, we give the learner encouragement, praise, applause, tools and the ability to pick themselves up when they fail again!
I have three challenges for you TODAY:
-Go out and make a miss take!
-Embrace a miss take your child has made!
-Teach your child this concept! 

And lastly, if you want to give the Gift of Embracing Miss Takes this Christmas then buy your child, grandchild, niece/nephew, godchild, etc. a Gift Certifcate from us. We will help this child be "Miss Take Friendly", not just report card smart ;)! We'd love to extend this gift to you and your's! 
Thank you for trusting us with your family this coming holiday season!
*Services provided by With a Twist Education Ltd.