As a Mom of four, it's been interesting to see where all of the children's interests and passions lay and how that translates into what they want to be "when they grow up"!
My eldest, River, has always been interested in technology, movies and superheroes.
He is very personable, and adults have always gravitated towards him. He's 18 now but, when he was younger, he'd be invited to friends' birthday parties. Upon picking him up, the parents would tell me that he was welcome to come back anytime, even if it was just to hang out with them! River seems to have a knack for making people feel heard and understood, to the point that they share things they wouldn't normally share.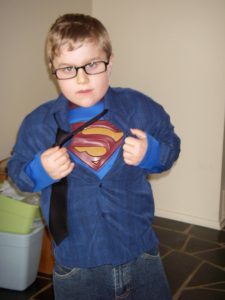 His passion for superheroes morphed very early on, as he would always want to be a superhero for Halloween (and really every other day of the year). He'd also pore over (and still does) comic books and graphic novels. He could have created the Spider-Verse movie because he really understands just how many Spidermen exist. Until I had seen the movie, I thought there was only one Spiderman! But shh, don't tell my son as that might pull down my cool mom factor. He also really likes technology and, with that passion, built his own computer.
All of that said, Riv has never really enjoyed school. Say what?!
As a lover of school myself, and an educator, it hasn't been a foregone conclusion that my children will love school. (Yes, this might have required some counselling on my part.) River likes to learn but prefers not to do it in a traditional way.
A Different Style of Learning Emerges…
When Riv was 15, he struggled with attending school, but he really enjoyed listening to podcasts and talking about what he learned through them. An opportunity arose for him to take an online podcasting course, which involved how to set up a podcast from the technical side of things, and how to monetize and market it. Guess what? Riv not only completed the course, but he also set up his own podcast. Then, in order to share his podcast with the world, he created his own website. He watched a series of YouTube videos to learn how to do this.
Being that I was an educator, I knew that options existed in the school system to get River a credit for the knowledge he gleaned about podcasting and website building. To that end, I found an online school that would accept River as a student and got him enrolled in an Independent Directed Studies (IDS) course. He took IDS courses independently online, while he was also enrolled in our local bricks and mortar high school.
Cross-Enrollment in British Columbia
Because River was enrolled in courses online and at our local bricks and mortar school, he was what you would call a "cross-enrolled student." As of 2008 in BC, a student can be cross-enrolled at any grade. Prior to 2008, cross-enrollment was only allowed from grades 10 and up. The challenge to this is that a school wants to get the full funding for a student, so not all schools are open to the idea of sharing a student.
The cross-enrollment option gives students flexibility to take what is offered beyond their particular school. So, you can take Independent Directed Study Courses (IDS) or more traditional online courses. River was able to take courses, such as podcasting, that weren't offered at his high school through the IDS option. As well, he was able to take courses such as math through the more traditional online route. In our case, it saved River. This option kept him engaged in school and still enjoying learning. I had a child that was still asking "what do I want to be when I grow up?" as opposed to "what do I want to be when I give up?"
Independent Direct Study Courses in British Columbia
What is an IDS course? Under teacher supervision, students can earn additional Independent Directed Study (IDS) credits by pursuing curriculum in more detail of a high school course that they're not currently taking. River was passionate about podcasting and website building. At his high school, since neither course was offered, we found these courses online. The online courses met the high school curriculum expectations of a grade 11 technology course. Therefore, River was able to show proof that he was learning the curriculum through the tasks that he did.
In the case of an IDS, the teacher and the student develop an Independent Directed Study plan that includes:
A process for ongoing facilitation and assessment
Criteria for determining successful completion
A credit value (one, two, three or four credits) for the proposed IDS
To participate in this method of learning, students must demonstrate the ability to work independently. As the student is not attending class every day, they need to be responsible for completing the tasks that prove they understand the curriculum.
Students do not need to complete the approved classroom course curriculum before they pursue an Independent Directed Study in that course. So, River did not have to have completed a technology course at his bricks and mortar high school in order to qualify to get into a Technology IDS.
However, the way in which he earned the IDS must be based on the learning outcomes of a Ministry-Developed or Board/Authority Authorized Grade 10, 11 or 12 course. This is why a teacher must be linked to the IDS. The teacher would need to be responsible for assuring that the student, through independent work, was meeting the curriculum expectations for that course so that they could confidently assign them course credits.
The maximum value for a single IDS course is four credits, but there is no limit to the total number of IDS credits a student may earn. The number of credits a student earns for an IDS will be set out in the plan developed by that student and a teacher and approved by a principal.
How To Get IDS Credit When Schools Are Unsupportive
River completed two IDS courses worth 4 credits each. As mentioned, he independently took a podcasting course online and received 4 credits for a technology IDS. He also took an investing course online and received 4 credits for an entrepreneurship IDS. The investing course was great in that it taught him about the stock markets and how to get his money to work for him. As he was the youngest student in the course, by far, it also gave him an opportunity to gain valuable skills to get ahead in life.
Both times that River took IDS courses, his bricks and mortar school and the school board attached to his bricks and mortar school, would not assign him a teacher to be able to complete IDS courses. Reaching out into online homeschooling forums, we found an independent online school that would assign River a teacher. Connect with us if you are running into any resistance as you explore these options for your family.
Traditional Online Courses
River was also able to complete grade 8 and 9 math in his grade 8 year. He did these courses online in a more traditional online way. In other words, the online school assigned him work that was pre-designed for all students taking grade 8 and grade 9 math. It was set out unit by unit with worksheets and tests that needed to be completed to assess his grades.
Going at his own pace online was great as Riv had always loved math and typically in the classroom setting, he'd be the one finished early who was asked to go help the other kids. By doing math online, he was able to complete grade 8 and grade 9 math in his grade 8 year! He was able to do this self-taught and maintain an A.
We did this as an option because math was something River always excelled at. As opposed to holding him back—saying you are of grade 8 age so therefore you should only be doing grade 8 math—it made sense to let him go at his own pace. His pace was to keep completing math course after math course.
Riv was also a high-level athlete at this time which was commitment intensive. The flexibility allowed him to keep his sport commitments and his school commitments.
Turning Failure Into Success
River hit a road block in grade 9 and did not attend school regularly. What you may not be aware of is that grade 9 courses don't "count" in that they don't go on a transcript. So, you can fail, and it's not recorded anywhere. Technically, Riv failed his grade 9 year. His father and I had allowed him to take the year completely online.
Riv lived between two homes, as his father and I were not together but had shared custody. While there were checks and balances as to what Riv was allowed to do at our house—for example, if he didn't complete his school work, he didn't get media—he didn't have the same structure at his other home. As a natural life consequence, I did not have River make up everything he missed doing at his Dad's house at our house.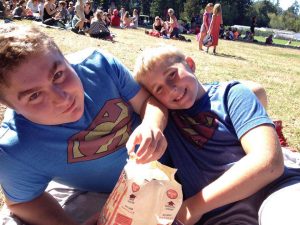 From this, Riv learned that you can't participate in life 50% of the time and expect to succeed. He also learned that he truly needed the balance of a bricks and mortar school, where there was some accountability mixed with learning at his own pace, through IDS or online courses.
River continued to do math online until his grade 10 year. He was completing grade 11 math in his grade 10 year and chose to take it with a teacher, as he felt that live interaction was necessary for ongoing questions and the pace at which the curriculum moved.
A Favorite Subject Becomes A Dreaded One
Unfortunately, his grade 11 teacher didn't believe in giving opportunities to students that missed school for any reason.
As mentioned, River didn't enjoy traditional bricks and mortar learning, and going on a daily basis sometimes wore away at him. Makes sense; imagine doing something you don't enjoy every day for 13 years! When River felt especially down, this would morph into him needing a day or two off of school. This didn't mean that he didn't complete the work, it just meant he needed a mental health day to regroup.
Unknown to us, Riv was experiencing some challenges in his grade 11 math course. The teacher highlighted students mistakes publicly and wasn't open to a student asking a question. The teacher also wrote on the board: "If you get an A in math you can be a teacher, doctor, lawyer, etc. If you get any other mark, you can work in the service industry, at say McDonald's."
While this wasn't affecting Riv's grades, it was affecting his morale. This low morale had him slide into missing 2 weeks, as opposed to the 1-2 days he might typically miss. River's school was fully aware of Riv's need to have some mental health days and his ability to rally back in terms of participation when at school and handing his course work in.
In this case, in the two weeks he was gone, while every other teacher supported him by sending work home, etc., his math teacher made the decision to penalize him. He had to write two tests the day he arrived back at school: one was a cumulative test and the other was the next unit test. The cumulative test was based on the last three units they had done while River wasn't present.
Even though on the three individual unit tests he received an 85% or higher on each test, on the cumulative test he barely passed. When asked to review this test and to count the unit tests and not the cumulative test given the circumstances, both requests were denied. The test was not shown to River as then the teacher would have to write new one. The cumulative test mark was not dismissed as the teacher felt that every test, no matter the circumstances, needed to be counted.
The second test he had to take on the day he arrived back was a unit test. He had missed all the instruction for that unit in the two weeks he was away. Upon arriving at school, he also wasn't given the opportunity to go through questions he had about that unit from the work he did at home. He barely passed this unit test.
You might be thinking, "well this was just two tests, could it affect his future THAT much?"
Yes, it can and it did. Riv was eligible and applying to take his grade 12 math credit at university. It was a new really cool program that wanted kids to experience university while still in high school. Because of this test mark, Riv wasn't eligible for the program anymore. Stay tuned for my blog entitled: "F The Test" where I'll talk more about the credibility of using tests as assessment.
The teacher stood behind the department policy to not give re-tests, nor to show him where he went wrong as she didn't hand back this test either. She also did not acknowledge that it was odd that a student who had always excelled in math would nearly fail two tests. However, every rain shower has the possibility of a rainbow, right?!
The Rainbow After The Rain Shower
Well, River's rainbow came in the form of a Vice Principal (VP) who cared. When the VP heard about the math teacher's treatment of Riv, he took the time to get to know River. After a couple of meetings with River, the VP told me what an amazing young man was. He also asked if it was okay if he offered Riv a unique opportunity: he offered Riv the chance to gain four courses, which totals 16 graduation credits.
The VP offered Riv this course through doing a series of projects that would meet the curriculum expectations for the four courses. How does this work? If you look at the curriculum expectations of courses, in this case, let's say English 10 and Social Studies 10, you will see some similarities in what the outcomes are that the teacher needs to teach.
In designing a project that would meet the outcomes of both courses, a student could complete four projects which meet the curriculum outcomes for both courses and therefore, complete 2 courses. Riv was able to complete his grade 10 and 11 English and Social Studies in this way.
Let's be honest, this just didn't happen. I sat in the office of his high school until someone would see me to talk about the math teacher's behaviour. When it was clear that I wasn't going to leave until there was a solution presented, the VP offered to get to know River to see what he could do. The VP was unable to offer a solution in regards to the math course, as teachers are quite protected by their union. We are grateful to this VP for thinking outside the traditional learning box and taking time, in the midst of hundreds of kids, to get to know Riv. Again, this was an opportunity that shaped River to ask: "What do I want to be when I grow up?" as opposed to "What do I want to be when I give up?"
Turning Passions & Interests Into Life Skills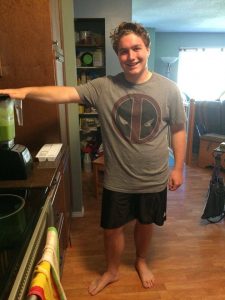 Our family did a 3-month eating challenge, called WildFit, together. WildFit was run online with a weekly video call with a coach. Our coach thought it was neat that our family was doing it together, so she let the owner of the company know this. The owner, Eric, asked to speak with us, as he hadn't had a family do the challenge together before. In our conversation, Eric asked to have a one-on-one video call with River.
At the end of their video call, Eric asked Riv: "Will you work for me?" Through Riv actively choosing to do the challenge with us, as well as Riv being so articulate and personable in their live chat, Eric felt that Riv was wise beyond his years. This was in the fall of 2016—Riv was 16 and just experiencing his hardest push to school daily.
Eric owns multiple businesses that operate world-wide. So, the job he was offering would be virtually doing something for one of Eric's teams. At the time, Eric didn't know what exactly he was offering Riv, job wise, he just knew he wanted to offer him something! Riv accepted. Eric's team connected with River and he was offered an opportunity to work virtually on the WildFit website. Essentially, when someone had a question on the WildFit website, it would go into a queue to get reviewed. Each question was given a ticket number. Riv was one of the respondents to these tickets. What an opportunity to learn how the back end of a website response team works!
Riv's due diligence on the website tickets led to another opportunity within the company. Each WildFit Challenge had a private Facebook group attached to it. Riv was to go into these groups and capture the testimonials. There was a process involved in capturing the testimonials which involved using Excel spreadsheets to capture various pieces. Again, another golden opportunity to learn the various functions of a spreadsheet and the back end of Facebook.
Imagine having to attend something daily that was not feeding your passions or your way of learning, this is what bricks and mortar school was like for River. The daily struggle for Riv to attend school was real, and he went through a rather deep depression dip.
Literally what got him out of bed every day, was this virtual assistance work. (Let's face it, some days he didn't even get out of bed as he could work from bed!) People valued him in this role. If he didn't show up, it mattered. And what he shared was the best part of this, was that he was reading multiple positive messages every single day. Because he was capturing the testimonials, he not only had to read the positive message once, but on repeat as he entered them into the spreadsheet and checked off everything he was supposed to do with them.
Riv used the positive messages and the monetary compensation to propel him forward. He went on to create more opportunities to work virtually and used the money to buy the parts to build his own computer. Riv, at 16, started his own Virtual Assistant company
River Takes On The Real World
Riv, at 16, started his own Virtual Assistant company. This is not a typo, I am repeating it on purpose. A student who struggled in our traditional system was able to excel in the "real world" and not only excel but learn skills that would help him be successful in life. As a result of owning his own business, he knows how to do his taxes, he understands ROI (return on investment), realizes the value of time, and learned that you can't buy something without having the money to do so.
Fast forward to Riv being 18 and graduating with honours from high school. In his final year of high school, he was asked the age-old question: "What are your plans?" And what this means to most people is: "What are you taking in university?"
People look a little shocked when he answers that he's not attending university at this time, nor does he have any plans to. They look even more shocked when his Mom—you know, the one with two university degrees and who has been an educator her whole career—is okay with this.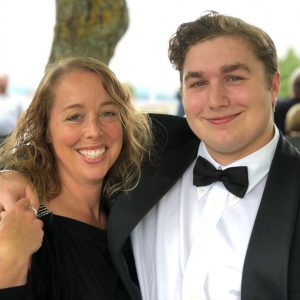 Riv is happy, healthy, understands what work ethic is and isn't, knows what motivates him to get out of bed and is a beautiful human being. He has stayed true to his childhood passions and personality traits and found a way to be himself in a world that prides itself on making people carbon copies of one another.
So, hell ya, I'm more than okay with him choosing his own path. Plus, I'll let you in on a little secret: he can always change his mind. He could wake up 10 days from now or 10 years from now and make a different choice!
Looking At Post-Secondary Options: Part 2 – The Traditional Path will feature my next two children who are 18 and 16 this year and are looking at attending university. And Part 3 – A combination of the Traditional and the Non-Traditional Path, will follow my youngest son's educational journey to see what paths he may choose.