River's Next Steps
A reader wrote in and asked what River, my eldest son, who I wrote about in Looking At Post Secondary Options: Part 1 – The Non-Traditional Path was up to. Here's an update for you all!
As was mentioned, River founded his very own Virtual Assistant business at the age of 16. Upon graduating from high school last year and deciding to not continue his formal education, Riv decided he wanted to make a plan to travel for a year abroad. He was thinking Europe, Japan and New Zealand.
A significant part of his plan was striving to save $20,000 so that he could travel worry free, as well as have money in case of an emergency and, also, still have money upon his arrival back home! (Yes, that latter part of that was my request!)
I have heard from a lot of parents of travelling kids that their kids call home for money while they are travelling or need to come home to live for free, as they haven't taken into account what happens when their money runs out!
To prepare for part of the plan, River worked a full time at the job the movie theatre, which he already had while in high school. As well, his plan was to continue to grow his business so that he could do this while he travelled. The beauty of a virtual assistant business is that it can be done from anywhere! 😉
Other pieces of the plan were to look into how much everything would cost, what he would need to travel with, and the priorities of places he'd want to see in the above-mentioned places. This was fun and overwhelming—there are a lot of choices and lots of information to gather!
A Change Of Heart In Favour of Europe
While doing this research and working at the theatre and at building his business, he had a change of heart. He decided that while he'd like to see numerous continents, starting with a trip to Europe and making it just a vacation would be better suited to where he was at.
This meant that he could really focus on his connections and the spots he was most interested in, in Europe. This also made him decide to finish up his business contracts and not take on any new ones so that his travel time could truly be a vacation.
Although he could run his virtual assistant business from anywhere, he'd still be on other people's deadlines. This may be one of the only times in life that he can be deadline and dependent free and travel with only his wishes and desires to consider!
A New Plan Emerges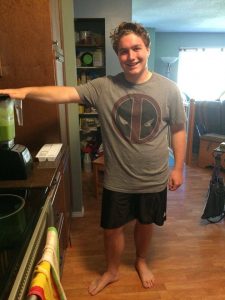 In re-jigging his plan, he decided to travel for six months, as opposed to a year. However, he still wanted to save around the same amount of money because now he would not be working while he was on the road, so he'd have no income coming in.
The really exciting part was when he started compiling his list of everything he needed. Amazon was his best friend ;)! You probably wouldn't believe everything they have for travel these days! He narrowed his list down so that he could ask for some of it for Christmas, as well as use some of his Christmas money towards it. Once Christmas was complete, he was pretty much set!
Next came the planning of who, what, when, where and how!
Connecting With Old Friends En Route To New Friendships
Riv's lovely personality and giving nature saw that he connected with two exchange students, Bella and Miriam, that were here in 2016-2017 school year. When they came here for that school year, they lived a couple blocks away at my girlfriend's place.
When they arrived before school started, my girlfriend asked Riv to show them around. Riv happily agreed and was therefore the first person they met outside of my girlfriend's family! He showed them the important places: the phone store so they could immediately get their phones working here, the bus so that they could get around, and all the places to get ice cream because you always need ice cream fixed when you are just getting used to a new place!
The girls, Bella and Miriam, became fast friends with Riv and our entire family. I am proud that they call me their Canadian Auntie! As they spent a lot of time with us, when their families came to visit them here, they wanted us to meet them. So, we got introduced to their parents and siblings! Bella is from Sweden and Miriam is from Germany!
And guess what?! They are River's first two stops on his European tour!
A Once-In-A-Lifetime Adventure Begins
Bella has her spring break as of April 12, so Riv is headed to spend that week with her and her family in Sweden! Then, Miriam will have just graduated so Riv will head from Bella's family home in Sweden to Miriam's family home in Germany!
Miriam and River will spend three weeks together in which they plan to explore Germany, Belgium, France and The Netherlands!
Riv then heads from Germany to a 20-day Contiki tour of Italy and Greece. He ends this tour in Greece, where he will then stay for a while before he meets back up with Bella and Miriam together. They have loose plans to go to Croatia at that point.
Riv's goal is to get to Scotland for the last week of July and then have August and the first bit of September to go where the wind takes him! He's applied for a working visa while he's there in case he decides to work and/or stay longer!
He leaves pretty soon on his 6+ month adventure! As mentioned, he's doing Sweden, Germany, France, Belgium, The Netherlands, Italy, Greece and Scotland—at the very least!
Preparing For The Big Trip
A really quick summary of what River has done to prepare:
done a run through of his packing,
ordered any last minute things he needs,
made a folder online, in paper and on an app of his itinerary, passport, insurance, etc.
put together a fake wallet to have on him in case he's pickpocketed,
fully paidfor his one way plane ticket and his Contiki tour,
applied for a working visa,
let his bank know he will be travelling,
saved a good chunk of money,
gotten insurance,
planned his going away party!
Holy…who knew when I ordered his grad cupcakes which said "shit just got real" that this time would actually come?!
I'm so excited for him! And yes, April 11th, you may want to check in on me…!
But this is what you raise your kids to do, right?!