Ready to connect with the best team of tutors in Nanaimo and the surrounding area?
Tutoring…With A Twist* offers mobile Twisted Tutoring Services that guarantee success beyond the classroom. Our local tutors are teachers and trained educators who understand the new British Columbia curriculum and know what it takes to help students succeed.
We have been serving the Central Vancouver Island region for over 10 years, with Twisted Tutors in Nanaimo and the entire School District 68 region, including Ladysmith, Cedar, Chase River, and Lantzville, BC. If you are looking for experienced local tutors, we would love to have a conversation with you.
The Twisted network of tutors has educators skilled in subjects at every level, including elementary, high school, and university classes. Our teaching subjects include:
We tutor in several formats, ranging from small group study sessions to one-on-one private lessons. Most of our families opt to have students learn in one of the local Vancouver Island Regional Library branches, although we also offer in-home tutoring as an optional add-on service. We are happy to work with you to determine the learning format that's best for your family.
The Difference of Twisted Tutoring
Learning takes hard work and we all do it a bit differently! At Tutoring…With A Twist*, we recognize and embrace every child's unique personality and learning style, using their natural selves to guide our teaching strategy. Using this approach, our tutors develop an Individualized Twisted Tutoring plan for every student that improves both academic skills and life skills.
Our Twisted Tutoring helps students to:
Improve knowledge in core subjects
Become confident learners
Build skills that are critical to thriving in everyday life
Increase communication skills
Enhance self-discipline & self-motivation
Discover their true potential
Improve planning & organization skills
This holistic approach to learning helps our Twisted Students improve in more than just their focus areas. We build up skills that benefit our students for life!
Meet Our Nanaimo Tutors
We have several talented tutors in the Nanaimo and Ladysmith area. Each Twisted Tutor is committed to treating students as whole people and teaching with the Twisted philosophy in mind.
Doreen Sayer – Nanaimo, Ladysmith & Area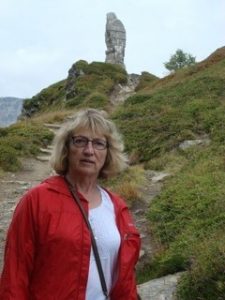 Credentials:
Bachelor of Education
Masters of Arts, Curriculum Development
Erin Holmes – Nanaimo, Ladysmith & Area
Credentials:
Bachelor of Education, Program & Course Development & English as a Second Language (ESL)
Don Gow – Nanaimo, Ladysmith & Area
Credentials
Bachelor of Education, Minor: French
Credits also in Statistics, Linear Algebra Pascal Programming and Calculus
Emily Agopsowicz – Nanaimo, Ladysmith & Area
Credentials
Bachelor of Arts in English with a Minor in Professional Writing and Publishing (University of Victoria )
Bachelor of Education in Secondary Education With Distinction, Specialties: English and Technology Innovation in Education (University of Victoria)
Jamie Cassels Undergraduate Research Award Recipient 2016 (University of Victoria)
Registered Yoga Teacher (Open Source Yoga)
Trauma-Informed Schools Training
James E. Baker-Taylor – Nanaimo, BC
Credentials:
Bachelor of Science, Biology
Bachelor of Education, Secondary Education (completion Dec 2018)
Alvina McGee – Nanaimo, BC
Credentials:
BC Certified K-12 Teacher
UBC Bachelor of Education
UBC Bachelor of Arts; English Literature and Creative Writing
MYP and IB Diplomas
Dale Jensen – Nanaimo, BC
Credentials:
Bachelor of Education
Masters of Education, Leadership and School Improvement
Robert McLean – Nanaimo, BC
Credentials:
Bachelor of Science, Anatomy & Cell Biology
Advanced Certificate Biochemistry
Bachelor of Education, Secondary Education
Ruby Hopkins – Nanaimo, BC
Credentials:
BC Certified K-12 Teacher
Bachelor of Education
Bachelor of Arts: Honours English with Distinction
Published Essayist
Former Junior Editor/Copy Editor
Julien Savard – Nanaimo, BC
Credentials:
Post-Baccalaureate Education Program at VIU (in progress)
Master Instructor Level 1 & 2 Certification
Level 2 Coaching Certification
Coaching & Mentoring Course
Post-Secondary Welding Instructor
Leadership Development Certificate
Red Seal Welder "B" Pressure Certified
Twisted Tutoring Testimonials
"I would recommend you anytime. My daughter's confidence soared and her grades along with that. Keep doing what you are doing."
-MP, Parent of an Elementary Math Student
"The Twisted Tutor went above and beyond as she made me practice questions and example sheets for all of my work. Then, she taught me how to make these so that I could be more of an independent learner. I eventually didn't need her anymore because of this and that made me sad, as we really had built a great relationship. Although it made my parents happy because they didn't have to pay for tutoring anymore!"
-AJ, High School Multi-Subject Student
"Peace of mind… that is what Tutoring with a Twist has done for our family. We adults in our house are not the best at math, but wanted to give our 10 year old better tools that we had when it came to numbers. We are blessed to have found Amber and Erin. Our daughter is much more confident in her math skills, actually finishing her school work ahead of time and is awfully proud of herself. That sense of pride is what we wanted her to feel. It makes us feel fantastic too! Thanks Tutoring with a Twist."
-Kimberly Plumley, Parent, Lantzville
Mistakes were explained to me in a way that I could understand and then, could improve upon. I don't think of mistakes in a negative way anymore because I realized, with my Twisted Tutor's help, that I could learn more from working though the mistake then I could had I gave up. I loved the knowledge that she brought to the sessions, as well as how flexible she was in her explanations.
-CU, Graduate Student, Thesis Writing Process
Contact Our Nanaimo Tutors
If you in are search of a local tutor in the Nanaimo, Lantzville or surrounding School District 68 area, let us know. We can connect you with an enthusiastic Twisted Tutor who will help your child thrive.
If you're ready to get started, please fill out this form:
Otherwise, we'd love to tell you more about our tutoring methods and talk this important decision through with you. You are welcome to call us at 1-866-977-4433 or get in touch online.
*Services provided by With a Twist Education Ltd.