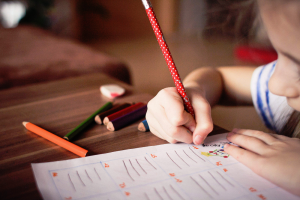 Does your child need help with French immersion or French language classes? We're ready to help! Tutoring…With A Twist* has French tutors who can improve language skills at any grade or ability level.
Our tutors are experienced local educators who are familiar with French Immersion and Francophone programs in Nanaimo, Victoria, and the rest of Vancouver Island. We also offer our services abroad with online tutoring!
As French tutors, we strive to help students meet their goals and improve their academic performance. We also ensure students can connect their skills with the real world and find value in the French language. This is part of our guarantee that all our students will achieve success beyond the classroom!
French Subject Areas
Our talented French tutors have deep experience with the French language, including areas such as:
Reading
Writing
Speaking
Comprehension
Vocabulary
Grammar
And more!
We have French tutors at every grade level, and our team is happy to help you improve your confidence with the French language. Let's get started!
Twisted Tutoring Locations
Our tutors are located in the following communities across Vancouver Island:
5 Benefits Of French Tutoring Your Student
5. Improved Grades
If your child is struggling with French, you're not alone! Many families have trouble teaching students the nuances of French, which may result in disappointing grades or academic performance. Fortunately, that's where an experienced tutoring agency can help.
Challenges with the French language can have a profound impact on overall academic performance, particularly in French immersion and Francophone schools. If your child is struggling with any aspect of French, let us know—we will create a custom plan to get your student back on track!
While academic performance is the primary concern for many parents looking for tutoring, it's just the tip of the iceberg when it comes to what we offer.
4. Happier & Healthier People
The emotional and mental state of a student impacts their ability and willingness to learn new things. We recognize that happiness is a critical component of the learning process, and we work with each of our students to help them understand their personal needs and find ways to meet those needs. In turn, our students become happy, healthy people who are better prepared to learn new things!
3. Enhance Self-Confidence
Confidence issues can massively impact a student's ability to learn. That's why we work on the self-confidence of every Twisted Student, teaching them that they are entirely capable of learning anything they wish, including French!
This confidence creates the foundation necessary to improve academic performance across the board. In this way, French tutoring can help students thrive in other subject areas too. Students who know they are capable of success will work harder toward that success in all aspects of life.
When our Twisted Tutors work with students, we build up their confidence and help them discover and appreciate their true potential. Confident students are empowered, proud, and eager to expand their knowledge. You'll be amazed at the difference a little more confidence will make!
2. Improve Study Skills & Work Ethic
French tutoring helps students improve their study skills and work ethic, both of which help prepare students for life in and beyond the classroom.
Because tutoring makes learning and studying a regular part of a student's routine, students build discipline and make regular study sessions into a habit. Better still, tutoring shows students that it's worth it to set aside time to learn. When our students connect the dots between trying and succeeding, they learn the true value of working hard. Investing in their own success becomes rewarding, so students become more willing to study and work hard in the future.
1. Improve Valuable Life Skills
Tutoring…With A Twist* guarantees success beyond the classroom, and we take that commitment seriously! Our entire philosophy is built on the idea that our students are amazing people with unique skills that can be nurtured and developed. Our personalized learning approach ensures we're working with students' pre-existing strengths while developing new skills that will serve them for life.
As a result, Twisted Students are resilient and capable, learning how to get through life in a way that's right for their personality. We accept students for who they are and simply give them the skills they need to overcome any challenges life throws their way.
Learn more about The Twist here!
French Tutoring Testimonials
"Our son had an awesome experience with his Twisted Tutor over the summer. He is even asking if he can continue with her throughout the school year with weekly sessions. Thanks again."
-PH, Parent of an Elementary Math & French Student
"I have already recommended Tutoring…With A Twist because I could see the difference when my son was taught how to study. We love our Twisted Tutor and cannot wait to see her again."
-DF, Parent of an Elementary Math, Science & French Student
 "The Twisted Tutor went above and beyond as she made me practice questions and example sheets for all of my work. Then, she taught me how to make these so that I could be more of an independent learner. I eventually didn't need her anymore because of this and that made me sad, as we really had built a great relationship. Although it made my parents happy because they didn't have to pay for tutoring anymore!"
-AJ, High School Multi-Subject Student
"My Twisted Tutor believed in me. She knew I could do it so then I knew I could do it. Also, she was fun which made learning fun. She also taught me that if I did the harder work first, I could reward myself with doing something I loved."
-DF, Homeschooled Elementary Multi-Subject Student
Read more of our Testimonials!
*Services provided by With a Twist Education Ltd.
Connect With A Twisted French Tutor
We'd love the opportunity to tell you more about the French tutoring experience! Simply fill out our form below or give us a call at 1-866-977-4433 to get started.
Did you know? Our Twisted Tutors are experienced with more than just French tutoring! We can also help with Science, Math, English, and more!