Is your child or student having a tough time with math? Calculus, algebra, trigonometry—no matter the level, ability or material, Tutoring…With A Twist* can help.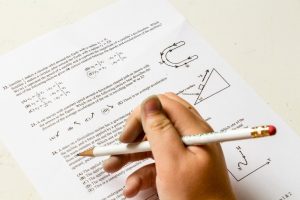 We have a network of talented Twisted Math Tutors from Victoria to Courtenay and beyond! Our local math tutors will not only help students achieve academic goals in the fundamentals of math but also guarantee success beyond the classroom.
Our Math Specialties
Our Twisted Tutors can help students with math fundamentals in:
Pre-Calculus
Calculus
Foundations
Trigonometry
Algebra
Statistics
Geometry
Grade-Level to University-Level Math
From elementary school to university classes, our Twisted Tutors have you covered. No problem!
Twisted Tutoring Locations
We offer Math tutoring in many communities across Vancouver Island, including:
If you prefer to learn from a distance, our online tutors have you covered. Here's a taste of what online tutoring looks like:
Benefits of Twisted Math Tutoring
5. Improve Math Grades
If you're thinking about hiring a math tutor after your child's grades have slipped, you're not alone. Many parents come to us after a failed test, call from a concerned teacher, or disappointing report card. We will help your student improve their knowledge, skills, and academic performance.
Higher math grades are the most obvious benefit of working with a math tutor, but students paired with a Twisted Tutor gain so much more than improved academic performance.
4. Improve Self-Confidence
Math equations can be daunting, and the first step towards solving them is often the hardest. This can cause students to freeze when faced with tough questions, especially in test scenarios. Working with a Twisted Tutor allows students to gain confidence in themselves, empowering them to attempt and complete the questions they once found intimidating.
One of the best parts of math tutoring is the moment when a student realizes they can solve an equation that used to seem impossible. Suddenly, your child is proud of their capabilities, no longer doubts their ability to learn challenging material, and gains the confidence to see their true potential. This confidence is uplifting and marks the first step towards a happier, healthier life.
3. Develop Valuable Life Skills
Tutoring…With A Twist* is guaranteed to provide students with skills that go beyond the classroom. Our personalized tutoring plans help math students overcome challenges in ways that are true to their own personality. This unique approach helps Twisted Learners become resilient and self-sufficient, giving them life skills to take on obstacles of many shapes and sizes.
Students often ask, "When are we ever going to use this in real life?" Our Twisted Tutors can answer that question! The skills learned through solving complicated math problems might not always be obvious, but we can ensure that your child will understand the "why" behind the "how." Logical, reasonable, critical, discerning, analytical, organized, and confident are just a few of the ways our Twisted Learners can describe themselves after working with us!
2. Stronger Work Ethic & Study Skills
Math tutoring helps students become more disciplined in two ways:
First, Twisted Learners develop a routine where learning and practicing math are normal activities. This ongoing dedication to learning new subjects helps develop study skills for life. So, working with one of our Twisted Math Tutors naturally helps students form good habits (and earn better grades) in their other subjects too.
Second, math tutoring shows students that it's worth it to study. As Twisted Learners work with their math tutor and see their hard work pay off, they learn the value of putting time and effort into improving their skills.
1. Happy, Healthy Learners
At Tutoring…With A Twist*, we look at students as whole people and recognize that emotional and mental states have a direct impact on learning. We use our Twisted System to help students identify their own needs and organize their behaviour so they are happier and healthier individuals.
Math Tutoring Testimonials
"Peace of mind… that is what Tutoring with a Twist has done for our family. We adults in our house are not the best at math, but wanted to give our 10-year-old better tools that we had when it came to numbers. We are blessed to have found Amber and Erin. Our daughter is much more confident in her math skills, actually finishing her school work ahead of time and is awfully proud of herself. That sense of pride is what we wanted her to feel. It makes us feel fantastic too! Thanks, Tutoring with a Twist."
-Kimberly Plumley, Parent, Lantzville
"I first came to Tutoring…With A Twist to get refreshers before upcoming tests, but then quickly came to realize that the support and caring that I got in each of these sessions could help me the rest of the year. My Twisted Tutor was like my academic coach, always encouraging me to do my best and showing me where I could improve."
-VS, High School Math Student
I recommend Tutoring With A Twist to my friends and other parents at my kids' school. My child has dyslexia and learning difficulties with math. She receives help with reading comprehension at the school but not with math. I choose Tutoring With A Twist because they had someone who specialized in learning difficulties. My child's Tutor this year has kept her on track, has her progressing in math and creative writing each week. If she didn't have the tutoring help in math, she wouldn't be keeping up with the school curriculum. The best part is her Twisted Tutor makes it fun to learn, which keeps my daughter in focus and enjoying her tutoring sessions. I also appreciate how organized Tutoring With A Twist is beginning with setting up a plan and receiving monthly reports on what my daughter is working on and how she is progressing. Keeps me in the loop!
-Sheri Jackson, Parent of a Math Student
"I have already recommended Tutoring…With A Twist because I could see the difference when my son was taught how to study. We love our Twisted Tutor and cannot wait to see her again."
-DF, Parent of an Elementary Math, Science & French Student
"Our daughter had a lot of anxiety about school, especially math. Our Twisted Tutor was able to teach our daughter in a kind, patient manner that not only resulted in the grades we wanted, but in my daughter understanding and actually enjoying math again."
–AD, Parent of High School Math Student
"Our son had an awesome experience with his Twisted Tutor over the summer. He is even asking if he can continue with her throughout the school year with weekly sessions. Thanks again."
-PH, Parent of an Elementary Math & French Student
Read more Twisted Testimonials here!
*Services provided by With a Twist Education Ltd.
Contact A Twisted Math Tutor
If you're ready to improve your skills in math and beyond, get in touch! Call us at 1-866-977-4433 or fill out the form below to get started now.
We've got Twisted Tutors ready to help in math tutoring, as well as other core subjects such as English, French, Science, and more! We'd love to answer any questions you have and talk this important decision through with you.